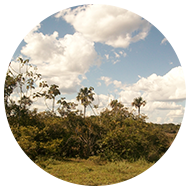 flora
The RPPN is located in the cerrado (Brazilian savanna) region, which is the most predominant vegetation in the state of Minas Gerais.
FAUNA
The diversity of the fauna in the Brazilian Cerrado makes it a priority area for the conservation of life according to the World Wildlife Foundation – WWF.
Avifauna
Rich and diverse avifauna including psittaciformes, falconiformes, tinamiformes, galliformes, among others.